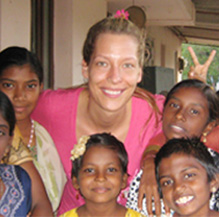 Sevalayan Orphanage (meaning "House of Service") truly defines this place at its core. While I come here to serve and to give of myself to the kids and all whom I come in contact with, the irony is that no matter how much I come ready and willing to help I find that I am the one that is reaping the gifts of service.
From the staff to the kiddies there is a resounding gong that rings of God's love and service that can be heard from continents away. This is a safe haven where a rush of joy and goodness overflows. It nourishes the spirit in unimaginable ways.
The kids are not only getting the word of God, but sharing in community with one another, receiving nutritious meals on a daily basis, receiving education and having all of their basic needs taken care of. It really demonstrates that less is honestly more. The less you have the more room you have for the things that really matter….love, faith, hope and joy.
It's something you have to experience for yourself.
Hk