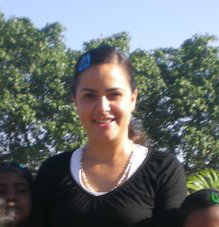 "Before leaving to India I really wanted to do some volunteering in an orphanage. I ended up finding an orphanage through a friend in Coimbatore which is in the state of Tamil Nadu, in the South of India. The orphanage was made up of 72 children, ages ranging from around 3 to 16. The orphanage housed both girls and boys.
I was told that I was more than welcome to stay at the orphanage for as long as I liked so long as I spend time with the children. It was one of the best experiences of my life. The kids were absolutely amazing! Spending time with them included getting them ready for school, walking them to school, eating together, playing games, helping them with school homework, helping them to wash their clothes, etc. It was great! Whilst the children were at school I would spend time with the families that lived at the orphanage. I loved to watch and help them cook and spend time trying to communicate with them…which was more often than not, very amusing!
These children do not have a lot and yet they have some of the biggest smiles I have ever seen. I cannot believe how much they enjoyed having visitors and how welcoming they were. When I first arrived I was a little taken aback by how the girls used to hang off me, touch my hair and my face, it was the cutest thing. No matter what country, rich or poor, at heart these young girls were just girls….they loved the same things as little girls all around the world. They would want to do my hair, paint my nails and ohhh how they loved to dance, dance to any music and to laugh! The boys were great too. They loved to play sports and run around. We used to laugh so much because we would play pranks on the teachers that lived at the orphanage….the boys thought this was hilarious!!
It was an absolute pleasure to spend the three weeks that I had there. I do not think there is a day that passes where I do not think about all those beautiful children, the hard life they lead and the wonder of what the future holds for them. I hope everyday that I will one day get a chance to visit them again!
I would highly recommend anyone heading to Tamil Nadu to visit the orphanage and experience the unique ambiance that the orphanage has to offer. It is truly an absolutely amazing experience!"